Get MigrationFX For FREE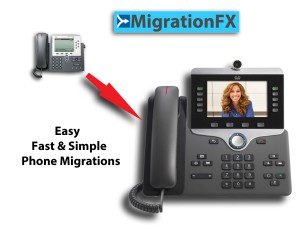 Cisco Technology Migration Program (TMP)
Are you planning to upgrade your Cisco phones in the near future but worried about the length, complexity and cost of the project?
Then we have some good news;
All Cisco Customers can get a FREE site license for MigrationFX from Cisco when they Trade-In 100 old Cisco IP phones and purchase 100 new Cisco IP phones via the Cisco Technology Migration Program (TMP).
The TMP Program additional discounts are available to all Customers from either Cisco or Cisco Resellers. Full details can be found HERE
This short video demo of MigrationFX shows how easy it can be to migrate from old Cisco phones to new Cisco phones the fast and easy way.
Instructions for Resellers to order the TMP / MigrationFX Promotion
1) Activate the Cisco TMP by utilising the Cisco TMP Trade-In code below;
                TRD-CISCO-CP-79XX (ANY CISCO 7900 SERIES PHONE)
Note you should enter the above codes under "competitive trade-in" when creating quote in Cisco CCW
2) Trade-in 100 old Cisco IP phones and purchase a minimum of 100 new Cisco  788XX/88XX phones on CCW.
3) On the same purchase add the Free of Charge Line item L-CP-MGFX-PROMO= the quantity should be 1
Note: This line item will show as NPH (New Product Hold) this is normal and will be approved by Cisco for release
4) The End User Customer details (Including email address) must be supplied to facilitate licence key delivery and support.
5) The order will be checked for T&C compliance and validity by Cisco and if the criteria are met will be approved by Cisco.
6) Once approved you will be provided with a PAK by e-delivery, please register the PAK at cisco.com/go/license
7) The MigrationFX licence keys will be supplied direct to the End User Customer
More Information for Resellers
To get the FREE MigrationFX customer site license for 1 year under the Cisco TMP Trade-In program then the first step for a customer is to engage a Cisco Reselling Partner who is enrolled in the Cisco PPE.
Resellers can get more information by going to the Cisco Refresh Collab Portal (requires resellers login details) and MigrationFX is in the Migration Tools section