Get MigrationFX For FREE
MigrationFX – a Certified Cisco Compatible product
MigrationFX is the only Endpoint Migration software to have Cisco Compatible certification and has attained this status for CUCM 9.0, 10.0, 11.0, 12.0.
MigrationFX is a certified Cisco Compatible product that has completed full Interoperability Verification Testing (IVT) as such you can be confident of it's performance and applicability with your Cisco CUCM software. This is important should you have any CUCM issues in the future as UnifiedFX and Cisco TAC will work cooperatively to identify and resolve unidentified root cause issues. UnifiedFX and Cisco TAC will resolve the issues in their respective product as appropriate.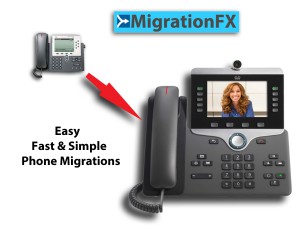 Cisco Migration Incentive Program (MIP)
Are you planning to upgrade your Cisco phones in the near future but worried about the length, complexity and cost of the project?
Then we have some good news;
All Cisco Customers can get a FREE 1 year license for MigrationFX from Cisco when they Trade-In 100 old Cisco IP phones and purchase 100 new Cisco IP phones via the Cisco Migration Incentive Program (MIP).
The MIP Program additional discounts are available to all Customers from either Cisco or Cisco Resellers. Full details, including discounts and how to register for the MIP program can be found HERE.
Resellers and customers can get more information on MigrationFX by going to the Cisco MIP Portal and MigrationFX is in the Migration Tools section HERE
NOTE: A CISCO.COM login is required to access the MIP program details.
This short video demo of MigrationFX shows how easy it can be to migrate from old Cisco phones to new Cisco phones the fast and easy way.
Instructions for Resellers to order the MIP / MigrationFX FREE License Promotion in CCW
1) When creating your Quote/Deal in CCW go to "Incentives" scroll down (its near the bottom) and under "Migration" select either "Competitive" or "Cisco Migration"
2) You will then be asked a series of questions about the number and Endpoints you are migrating to and from. Please make sure this is 100 or greater.
3) On completion of the questionnaire and returning to the Quote/Deal, you will need to add the Free of Charge SKU item L-CP-MGFX-PROMO=   the quantity should be 1.
4) Add in the type and quantity of new Endpoints that you are purchasing, this should be 100 or greater
5) Select the "Trade-In" items tab and add in the "Cisco Products" or "Competitive Products" that you are trading in, this should be 100 or greater.
6) Complete the quote as normal.
7) The End User Customer details (Including email address) must be supplied to facilitate licence key delivery and support.
8) The order will be checked for T&C compliance and validity by Cisco and if the criteria are met will be approved by Cisco.
9) Once approved you will be provided with a PAK by e-delivery for the End User Customer, please register the PAK at Cisco.com Product License Registration.
10) The MigrationFX licence keys will be supplied direct to the End User Customer
More Information for Resellers and Customers (NOTE: A Cisco.Com login is required to access the MIP program details)
To get the FREE MigrationFX customer site license for 1 year under the Cisco MIP Trade-In program then the first step for a customer is to engage a Cisco Reselling Partner who is enrolled in the Cisco MIP.
Cisco Announces End-Of-Life 7945, 7975, 7965, 7916 Cisco IP Phones
Cisco has announced the end-of-sale and end-of-life dates for the Cisco Unifed IP Phones 7945, 7965, 7975 and 7916. The last day to order the affected product(s) is June 18, 2018.
If you are using the above series phones and looking for a solution to help you manage the replacement of phones, use MigrationFX for hassle Free migration your old Cisco IP phones into new technology phones. Get benefits of Cisco Migration Incentive Program (MIP) and replace your old Cisco technology phones with new phones.
Check Cisco IP Phone 7800 and 8800 Series Security Overview
Download and Check The Cisco Security White Paper

With security becoming increasingly important in every aspect of the enterprise, above white paper documents the state of the art security improvements that Cisco has included in its latest phone models.