Cisco UCCX Wallboard – WallboardFX
WallboardFX is a Cisco UCCX Wallboard software application used to display and instant and real time view of UCCX contact center activities and performance. It offers easy to use and fully customisable dashboards for all your UCCX Contact Center activities.
WallboardFX is an excellent way to communicate current call status to your Cisco UCCX contact centre staff. This UCCX Wallboard solution enables you to monitor your Cisco UCCX contact centre activity and performance in real-time. displaying calling stats and detailed reporting dashboards that may contain calls waiting, average waiting time, calls answered/dropped/abandoned, longest/average waiting time, abandon rate and many other indicators.
WallboardFX – Cisco UCCX Wallboard, offers excellent communication with your agents beyond basic analytics and provides a complete and engaging view of day-to-day call centre business.
Certified Cisco UCCX Compatible wallboard – WallboardFX
WallboardFX – UCCX Wallbaord is a certified Cisco UCCX Compatible dashboard application that has completed full Interoperability Verification Testing (IVT) as such you can be confident of it's performance and applicability with your Cisco CUCM software. This is important should you have any CUCM issues in the future as UnifiedFX and Cisco TAC will work cooperatively to identify and resolve unidentified root cause issues. UnifiedFX and Cisco TAC will resolve the issues in their respective product as appropriate.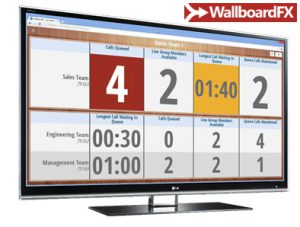 Do you manage a Cisco UCCX Contact Center ?
Are you looking for a solution to get a more detailed second by second view of what is happening ?
WallboardFX re-invents how Cisco UCCX Wallboards operate by leveraging the latest web technologies.
Providing an instant view of Contact Center activity (UCCX). View and monitor your performance as a whole, by team or by agent from anywhere in the world with WallboardFX – Cisco UCCX Wallboard.
View on a Large Screen Display, PC, tablet, mobile or even a Smart TV, as long as you have a browser you can be connected.
Our data updates are the fastest in the industry, presented to all connected displays simultaneously.
No more engineers required to re-configure displays or systems.
Remotely configure displays using our user friendly, central management interface.
With our very simple self-install procedure, you can be up and running in less than 5 minutes.
From the smallest Helpdesk to the largest Contact Center, WallboardFX is ideal for real time management of your mission critical business functions and SLA's.
To bring your business into the 21st century contact UnifiedFX today for your Free Trial.
WallboardFX (Cisco UCCX Wallboard) Free Trial
This free thirty day trial allows you to try out and test all of WallboardFX's great features. You can optionally enter the IP Address of your Cisco UCCX system to simplify the installation by automatically configuring WallboardFX once the Trial license is installed.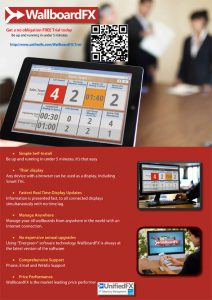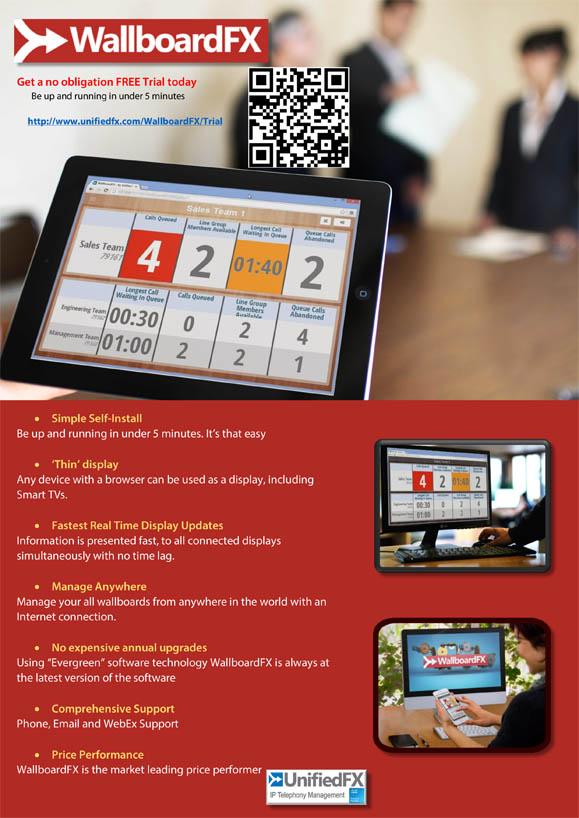 Some of the great features you can experiment with on your Cisco contact center include :
Simple Self Installation in under 5 minutes
Fastest data updates by an order of magnitude
Remote display management
Simple administration
Start Your Trial
Pre-requisites for self installation of WallboardFX are as follows
Microsoft Windows 7/8/10, Windows Server 2008R2 or greater
Microsoft .NET Framework v4.5 or greater
1.6GHz CPU or greater
1 GB Disk Space
4GB Ram
VMware supported
WallboardFX supports UCCX version 7 and above.
The latest UCCX version is UCCX-12.5.1.
For more information contact

Wallboard Technical Training Videos 
WallboardFX –  Cisco UCCX Wallboard Installation
WallboardFX – Cisco UCCX Wallboard Technical Overview
WallboardFX – Cisco UCCX Wallboard Display Management
WallboardFX – Cisco UCCX Wallboard Threshold Settings