PhoneView – Cisco Certified CUCM Compatible Phone Endpoint Management Solution

PhoneView is the ONLY Endpoint Management software to have Cisco Compatible certification and has attained this status for CUCM 9.0, 10.0, 11.0, 12.0.
PhoneView is a certified Cisco Compatible product that has completed full Interoperability Verification Testing (IVT) as such you can be confident of it's performance and applicability with your Cisco CUCM software. This is important should you have any CUCM issues in the future as UnifiedFX and Cisco TAC will work cooperatively to identify and resolve unidentified root cause issues. UnifiedFX and Cisco TAC will resolve the issues in their respective product as appropriate.
NOTE: PhoneView is now embedded by Cisco in the CCIE Collabv2 Syllabus and Exam for Endpoint Management. This is great for you if you are studying for a CCIE qualification as you can use PhoneView everyday in your operational environment.
Cisco phone endpoint management, allowing advanced manipulation of one, many or all phones.
User Interface and Visualisation
Simple & Intuitive
Automated Grouping of Phones
Quick & Simple filtering
Visualise one, many or all phones/li>
Familiar interface design
Zoom in/out of phone screens
Import and Select Images to push to phone background
Historical log of interactions with all phones
PhoneFX a supplementary browser based single phone remote control. ideal for help desk scenarios. Click here for more information
Cisco Compatible Remote Phone Control 
Near Real-Time interaction with remote phone(s)
See exactly what the user sees
Press any phone button remotely.
Control one, many or all phones at once
Send text messages to multiple phones
Extensive List of Phone Commands
Create/Use Command Macros
Advanced queueing for optimal delivery of phone commands
NotificationFX a supplementary Notification and Paging Feature application to include Audio/Text/ Live Audio Paging messages to dynamic phone/speaker destinations from multiple sources (XML Service on Cisco VoIP Phone / Web Browser). Click here for more information
Asset & State Management
Gather Phone details (i.e. Switch, Port & Serial details)
Export asset and state information
Gather and manipulate login state
Bulk Management of Login State
Migrate users to Extension Mobility
Granular Management of Firmware Upgrades
QoS Performance Monitoring
Security By Default (SBD) health check (find specific Phones with ITL/CTL Errors)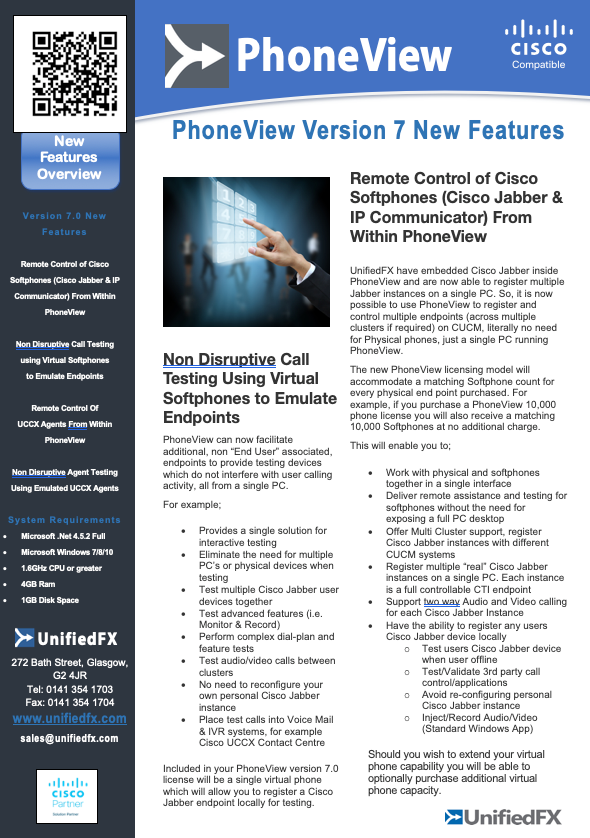 New additional features in PhoneView Version 7
New Softphone Endpoint Management for Jabber & IPC
New ability to create Virtual phones for general testing purposes 
New ability to emulate UCCX agents for Contact Center testing purposes
Option to purchase additional Virtual phone and UCCX agent testing capacity
Click here for full details on the new version 7 features. Alternatively click to download our brochure on the right. 
Cisco Compatible Remote Phone Control Tool For Cisco Phones
PhoneView is the leading Cisco phone remote control solution available today and provides some very unique user interface features. Only PhoneView provides the user with a full view of all Cisco remote controlled phones via its unique multi-phone Screenview display facility. This feature provides the user the ability to dynamically zoom into the real time Screen view of one phone or zoom out to monitor as many phone screens as you wish to control at one time. You can also scroll though and view the screens of all phones in your estate without the need to load up separate instances for each phone. Cisco phone remote control has never been easier.
PhoneView is based on a simple and intuitive user interface that make managing one, many or all IP Phones easy. PhoneView includes the most extensive set of features available anywhere for IP Phone Endpoint management. With PhoneView you may 'Never Need to Send an Engineer to Site Again'.
The flexibility of PhoneView makes a number of scenarios quicker and easier: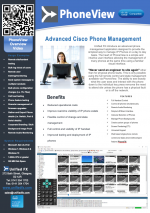 Bulk Delete of ITL\CTL Files
Corporate Branding/Bulk Background Push
Handset Deployment
System/Application Testing
Remote Support/Training
Inventory and Auditing
Firmware Upgrades
SRST Testing
Bulk Update of Phone Settings
Complex Migrations\Upgrades
Critically, most phone-related issues (other than physical phone faults) that would previously have required a site visit can now be handled remotely, eliminating almost all remote site call-outs and therefore providing unparalleled return on investment (ROI).
For more information contact

7 Day Trial Edition FREE
Lab Edition

($499)

  $0
Engineer Edition
Enterprise Edition
Number Of Installations
Single
Single
Single
Unlimited
License Basis
Installation
Installation
Phone Estate
Phone Estate
Visible Phones
Up to 500+5
Up to 50
1000+
1000+
Selectable Phones
10
10
Unlimited
Unlimited
UCME Support
Yes
Yes
Yes
Yes
Cisco Compatible Remote Phone Control
7 Day Trial Edition FREE
Lab Edition

($499)

  $0
Engineer Edition
Enterprise Edition
Optional use of CTI
(UCM Version 7.0+)
*New PhoneFX/ NotificationFX
Remote Audio

Free Option

Free Option
Basic Remote Control
Advanced Remote Control
Automatic Screen Refresh
Control a Single Phone
Control Multiple Phones

Only 10 at a time

Up to 10 at a time
Basic Phone Searching
Graphic Interface
Macro Commands
Command Text Input
Background Management
Load Image from Clipboard
Load Image from File
Push Background to multiple phones

Only 10 at a time

Up to 10 at a time
Phone Inventory
Gather Asset Information

Only 10 at a time

Up to 10 at a time
Save Cluster Snapshot
Export to CSV
Export to Excel
State Management
Reset one or more phones

Up to 10 at a time

Up to 10 at a time
Capture realtime Quality of Service
Bulk Extenion Mobility Login/out

Up to 10 at a time

Up to 10 at a time
Bulk Import of User Data from CSV
User Interface
Single Application
Visual representation of Phone
Automatic Grouping
Simple Filtering
PhoneView is a client application that installs on Microsoft Windows operating systems.
To run PhoneView the client PC requires at least:
Microsoft .Net 4.5.2 (or above)
Microsoft Windows 7/8/10
Microsoft Windows Server 2008/2008R2/2012/2012R2/2016
1.6GHz CPU or greater
4GB RAM
1GB Disk Space
As PhoneView interacts with the Cisco Unified Communications Manager (Cisco Call Manager) and the built-in web server within each Cisco IP Phone, network connectivity from the client PC to these devices is therefore required.
PhoneView Infrastructure Requirements :

PhoneView is compatible with the widest range of Unified Communications Manager (UCM) or Cisco Call Manager versions and Cisco IP Phones, the following is a listed of tested version/models: :

UCM
5.x, 6.x, 7.x, 8.x, 9.x, 10.x, 11.x, 12.x
Phone Models supported

6921, 6941, 6945, 6961, 7811, 7821, 7841, 7861, 7905, 7906, 7911, 7912, 7925, 7926, 7931, 7937, 7940, 7941, 7942, 7945, 7960, 7961, 7962, 7965, 7970, 7971, 7975, 8811, 8821, 8831, 8841, 8845, 8851, 8861, 8865, 8941, 8945, 8961, 9951, 9971, Cisco CIUS, Cisco IP Communicator, Cisco Jabber Desktop.

Background Updates using personalization method:

UCM6.1 or above, and the following phone models: 7906, 7911, 7925, 7926, 7941, 7942, 7945, 7961, 7962, 7965, 7970, 7971, 7975

8811, 8821, 8841, 8845, 8851, 8861, 8865, 8961, 9951, 9971

Note due to the inherent Cisco design only certain phones support remote deletion of ITL certificates, these are;
6921, 6941, 6945, 6961, 7821, 7841, 7861, 7906, 7911, 7941, 7942, 7945, 7961, 7962, 7965, 7970, 7971, 7975, 8811, 8821, 8831, 8841, 8845, 8851, 8861, 8865, 8941, 8945, 8961, 9951, 9971
Note due to the inherent Cisco design only certain phones support remote deletion of CTL certificates, these are;
6921, 6941, 6945, 6961, 7821, 7841, 7861, 7906, 7911,7940, 7941, 7942, 7945, 7960, 7961, 7962, 7965, 7970, 7971, 7975, 8811, 8821, 8831, 8841, 8845, 8851, 8861, 8865, 8941, 8945, 8961, 9951, 9971
For more information about PhoneView Call Manager and Cisco phone remote control application, please feel free to contact us by using following link: