PhoneFX – FREE Trial License
With PhoneFX you will be able to support your customers centrally, avoiding having to send an engineer to site.
UnifiedFX are the original Cisco VoIP Phone remote control and management specialists. The only manufacturer who's product is certified by Cisco as compatible with CUCM.
Get Free Trial Edition PhoneFX

The Ultimate Single Phone Remote Control Tool for Cisco Phones
PhoneFX is a web based single phone remote control tool for Cisco phones called PhoneFX that is ideal for Help Desk and training scenarios. It can be used with PhoneView or as a standalone.
Please Note PhoneFX is included in Enterprise Edition of PhoneView and no additional license is required. 
Key features of PhoneFX Crisis License:-
* 100% Free
* 10k Phones (additional on request)
* Available to everyone
* 100% Web based (no plugins)
* Leverages latest HTML 5 features
* Access from Mac/Linux/Windows/Mobile/Tablet
* Desktop responsiveness in a web application
* With PhoneFX you can support customers centrally, avoiding going to a remote sites.
* Integrates beautifully with SMACS from Stack8
* Integrates beautifully with PhoneView from UnifiedFX
Get Free Edition PhoneFX for 6 months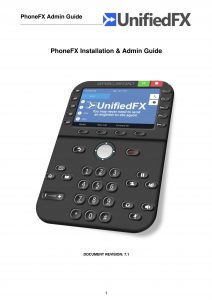 PhoneFX Systems Requirements
Application
Windows 7/8/10, Windows Server 2008 R2 or greater
Microsoft .Net Framework 4.5
2.0GHz (Dual Core) CPU
500Mb free Hard Drive Space
4GB Ram
VMWare Supported
Modern Web browser i.e Chrome, Firefox, Safari, IE 10+
Note: If installing on Windows 7 or Windows Server 2008 R2 then Windows Management Framework 3.0 is also required: https://www.microsoft.com/en-us/download/details.aspx?id=34595
Unified Communications Manager
CUCM version 8.0 (or above)
Appropriate CUCM License capacity for new phones (if required)
Phone Web Server Enabled (For Gathering topology information)
Note: On some occasions, a CUCM update or device pack may be required to support new phone models