UnifiedFX Ltd is pleased to introduce the latest major release of PhoneView
PhoneView 7.1 introduces AutomationFX SDK which will allow customers to write their own automation for CUCM
AutomationFX SDK is a development platform designed to ease complexity, it simplifies the Cisco API knowledge and skill required to write CUCM automation solutions for cloud services (Salesforce, Zapier, WebEx, Zendesk, Etc).
AutomationFX SDK provides a single standard programming interface.
This interface automatically translates application instructions into the complex protocols required to interface directly with the Cisco collaboration systems.
PhoneView 7.1 Features
AutomationFX SDK
Role based Access Policies for AutomationFX Platform
Restrict by User, Group or Application

PhoneFX
NotificationFX
AutomationFX SDK

User Audit Reporting including support for Syslog
You can register for the launch event HERE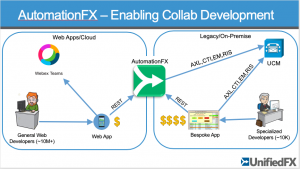 ——————————————————————————————–
Download Cisco Phone Remote Control : Download PhoneView
Download Remote Control for Cisco Phones – Free Trial : Download PhoneView Free Trial
Doanload Cisco Phone Remote Control Tool – Free Lab Edition : Download PhoneView Lab Edition
Bulk ITL Files Delete Tool : Download PhoneView ITL Delete Tool
Cisco Phone Asset and Inventory Reporting Tool : Download Asset and Inventory Reports
PhoneView ITL Files Scanner : Download PhoneView ITL Scanner
——————————————————————————————-