Webinar
February 03, 2021 @ 11:00hrs EST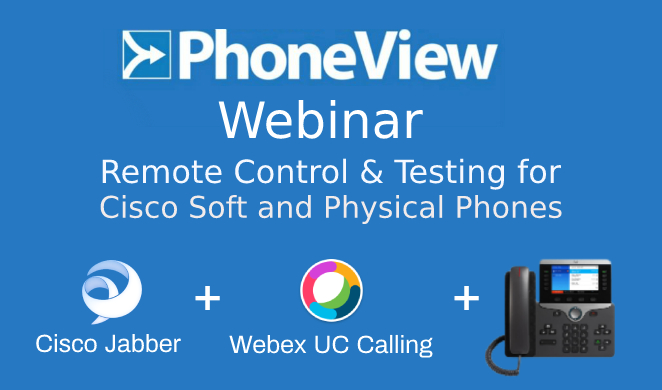 With PhoneView you can manage and control both physical and soft phones from the one platform.
PhoneView is also a platform for call testing for physical phones and non-disruptive call testing using virtual soft phones.
Phone Remote Control
Jabber
Webex UC Calling
IP Communicator
Physical Phones
Phone Testing
PhoneView can now facilitate additional, non End User associated endpoints, to provide testing devices which do not interfere with user calling activity. All from a single PC.
For example;
Provides a single solution for interactive testing
Eliminate the need for multiple PC's or physical devices when testing
Test multiple Cisco Jabber or Webex UC Calling user devices together
Test advanced features (i.e. Monitor & Record)
Perform complex dial-plan and feature tests
Test audio/video calls between clusters
No need to reconfigure your own personal Cisco Jabber or Webex UC Calling instance
Place test calls into Voice Mail & IVR systems, for example Cisco UCCX Contact Centre
Included in PhoneView version 7.0 + license are two virtual phones which will allow you to register a Cisco Jabber endpoint or Webex UC Calling phone locally for testing. Should you wish to extend your testing capabilities and build more sophisticated test scenarios you will be able to optionally purchase additional virtual phone capacity.
Register HERE
For further Information Contact: sales@unifedfx.com
——————————————————————————————–
Download Cisco Phone Remote Control : Download PhoneView
Download Remote Control for Cisco Phones – Free Trial : Download PhoneView Free Trial
Doanload Cisco Phone Remote Control Tool – Free Lab Edition : Download PhoneView Lab Edition
Bulk ITL Files Delete Tool : Download PhoneView ITL Delete Tool
Cisco Phone Asset and Inventory Reporting Tool : Download Asset and Inventory Reports
PhoneView ITL Files Scanner : Download PhoneView ITL Scanner
——————————————————————————————-