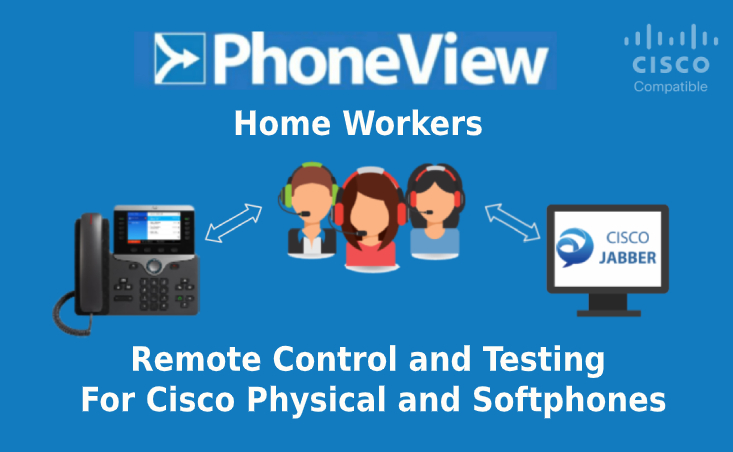 PhoneView 7.0 introduced sophisticated Endpoint Management support for Cisco Soft Phones (Jabber and IP Communicator).
Now with PhoneView you can manage and control both physical and soft phones from the one platform whether they are in the Enterprise or whether they are at your workers home on either Cisco MRA (Expressway) or Cisco VPN (AnyConnect).
In addition we have provided a platform for non-disruptive call testing on Cisco Soft Phones that many customers have requested.
Support for Home Workers Includes
Remote Training and Troubleshooting*
Bulk Phone Firmware Management
Bulk Phone Background Management and Branding (AnyConnect only)
Bulk System wide messaging and notification
Bulk Staging and testing (E.G. Call load testing)
Bulk Delete ITL/CTL Files
Bulk Changing of TFTP Setting
Extension Mobility State Migration
Asset & Inventory Information (AnyConnect only)
Etc
Get a FREE trial HERE
——————————————————————————————–
Download Cisco Phone Remote Control : Download PhoneView
Download Remote Control for Cisco Phones – Free Trial : Download PhoneView Free Trial
Doanload Cisco Phone Remote Control Tool – Free Lab Edition : Download PhoneView Lab Edition
Bulk ITL Files Delete Tool : Download PhoneView ITL Delete Tool
Cisco Phone Asset and Inventory Reporting Tool : Download Asset and Inventory Reports
PhoneView ITL Files Scanner : Download PhoneView ITL Scanner
——————————————————————————————-