Webinar
February 24, 2021 @ 11:00hrs EST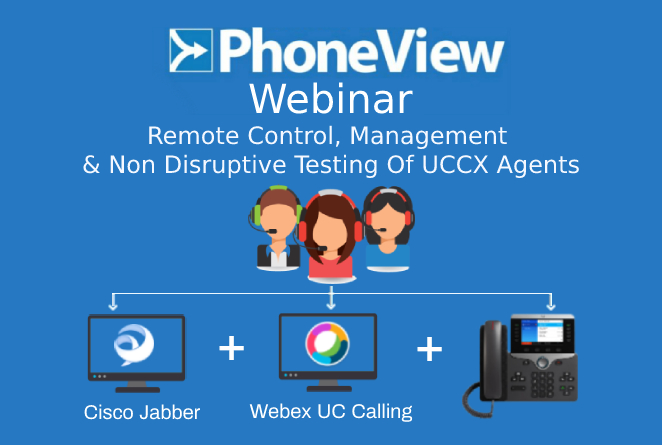 UCCX Agent Management & Testing 
With PhoneView you can now manage and test UCCX Agents non-disruptively. Combining our unique virtual Jabber endpoints with UCCX Agents there is no need for multiple PCs or Physical devices when testing. In addition, there is no need to login multiple Finesse browser sessions.
End-to-End testing of UCCX System
Validate/Test UCCX Scripts/Interaction
Test ACD/Agent Skill Routing
Test Queue Overflow
Test Supervisor Operations
Test UCCX Monitor/Recording systems/components
New UCCX Agent Data
Real-time Agent state for all UCCX Agents
Set Agent state for any UCCX Agent
Login/logout and UCCX Agent
Included in PhoneView version 7.1 license are 10 virtual UCCX Agents which will allow you configure locally for UCCX Agent testing. Should you wish to extend your testing capabilities and build more sophisticated test scenarios you will be able to optionally purchase additional virtual UCCX Agent capacity.
To find out more about UnifiedFX, please click here.
——————————————————————————————–
Download Cisco Phone Remote Control : Download PhoneView
Download Remote Control for Cisco Phones – Free Trial : Download PhoneView Free Trial
Doanload Cisco Phone Remote Control Tool – Free Lab Edition : Download PhoneView Lab Edition
Bulk ITL Files Delete Tool : Download PhoneView ITL Delete Tool
Cisco Phone Asset and Inventory Reporting Tool : Download Asset and Inventory Reports
PhoneView ITL Files Scanner : Download PhoneView ITL Scanner
——————————————————————————————-